News and Updates
CALIFORNIA STATE PTA ANNOUNCES SUPPORT FOR PROPOSITION 16
California State PTA is proud to support Proposition 16 to provide equity in state hiring, contracting, and education.
Unfortunately, racism and sexism still deny equal opportunities in California. Everyone deserves the opportunity to succeed — regardless of their gender, what they look like, or where they were born.
This constitutional amendment, placed on the November 2020 statewide ballot by the legislature, asks the voters of California to vote on permitting the use of race, gender, and ethnic diversity as factors (but not decisive factors) in education including college admissions, government hiring, and government contracting. This measure repeals Prop. 209, which banned consideration of these factors in public employment, public education and public contracting.
California State PTA believes in equity in every aspect of life for all children and youth, and effective governance systems and practices that are rooted in social justice to serve the needs of children, youth and families.
PTA was established to secure adequate laws for the care and protection of children, youth and families. We must address a legacy of unequal treatment of marginalized groups and promote fairness and advance upward mobility, pay equity, and racial wealth gap reduction.
To read National PTA's newly adopted position statement "Addressing Systemic or Institutional Racism," please click here.
To read more about this ballot measure on the California State PTA website, click here.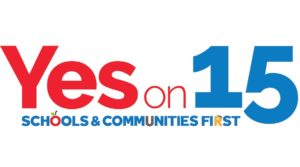 PROP. 15: CALIFORNIA SCHOOLS AND LOCAL COMMUNITIES FUNDING ACT
California State PTA supports Proposition 15, the California Schools and Local Communities Funding Act.
This initiative will change how commercial and industrial property is taxed and will increase funding for K-12 public schools, community colleges and local governments by requiring that commercial and industrial real property be taxed based on current market value.
It protects all homeowners and renters by maintaining tax protections for ALL residential property.
KEY TO CALIFORNIA'S RECOVERY
This historic effort to generate up to $12 billion every year for critical local services, essential workers, and schools by closing corporate tax loopholes comes at a time of unprecedented hardship throughout California. As school districts, local governments, and the state face historic budget shortfalls, one thing is clear: Schools & Communities First will be key to California's recovery and reinvestment, and we simply can't afford corporate tax loopholes at the expense of our state's future. With this initiative, we can invest in those local governments, essential workers like first responders and public health nurses, and schools that will be so critical to recovering from this crisis – while protecting homeowners and renters, small businesses, and agriculture. Simply put, we can't afford corporate tax loopholes at the expense of these essential services and workers.
MORE MONEY FOR SCHOOLS AND COMMUNITIES
Proposition 15 will raise up to $12 billion in most years, depending on the strength of real estate markets. This money would be allocated to schools (40%) and other local governments (60%).
"Our schools have been desperately underfunded for years, and we need this measure to ensure our children have the resources they need in order to learn.

"We urge parents and families across the state to support this act to give classrooms – and our children – the funding they need." – California State PTA President Celia Jaffe
WHAT WILL PROPOSITION 15 DO?
Commercial and industrial properties, as well as vacant land not intended for housing, commercial agriculture, or protected open space, will be taxed based on market value, as opposed to purchase price. A property's market value is equivalent to what it could be sold for today.
Properties owned by individuals or businesses whose property holdings in the state total less than $3 million (adjusted for inflation) are exempt from market value taxation. These properties would continue to be taxed based on purchase price.
Residential properties would continue to be taxed based on purchase price.
The measure exempts from taxation the first $500,000 of value of a business's personal property.
WE NEED YOUR HELP TO GET THIS INITIATIVE PASSED. WILL YOU SIGN UP TO VOLUNTEER?
Click here to volunteer to help pass the new and improved California Schools and Local Communities Funding Act in November 2020.